Want to register a foreign truck in Spain?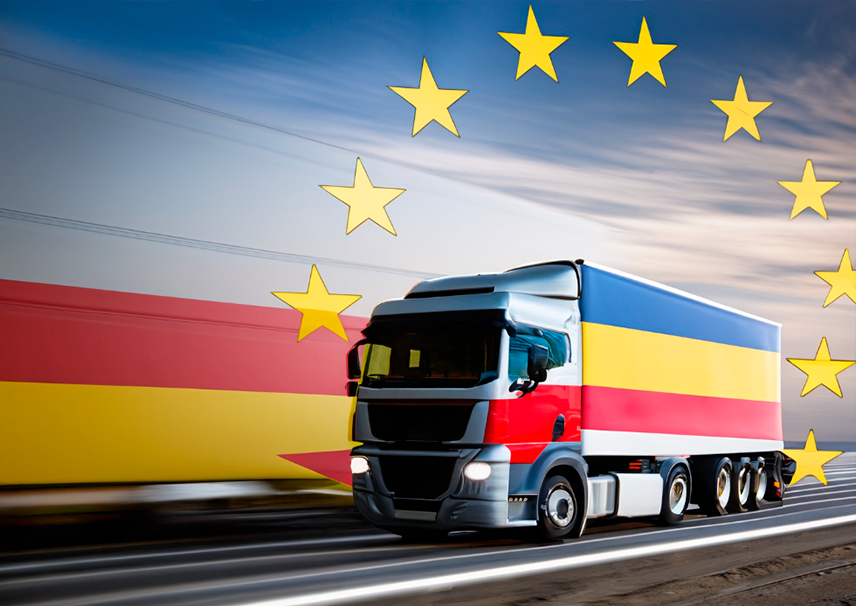 Do you need to register a new or used truck imported from Germany or other countries and homologate it to be able to circulate here? Do you want to know how much it costs to register a truck including DGT and Transport expenses?
If you are looking for one registration agency for trucks, articulated trucks or tractor-trailers, we can help you, we will advise you on the steps to take and we will carry out the process quickly and effectively.
In addition, if necessary, we can also homologate your truck In order to be able to register it, in the event that it has important reforms and requires the intervention of industrial engineers who collaborate with us, for individual approvals or reduced files.
According to your instructions we can replace the transport card with a previous one that you had from another vehicle or expand the fleet Managing everything in transport together.
ADVANTAGES OF REGISTERING A TRUCK WITH US
Without wasting time and without prior appointments like in DGT or Transport with specialized professionals in their areas.

Cheaper price and significant savings, especially time, doing it through an agency like ours.

We take care of presenting all the documentation for you and we check that everything is correct.

We take care of registering registration taxes (model 06), municipal taxes, etc. and the payment of traffic fees, among others.

Management and obtaining authorizations for the transport of merchandise so that you can work.

Specialized in new and used trucks imported from the European Union (Germany, Austria, Belgium, Bulgaria, Cyprus, Denmark, Spain, Slovakia, Slovenia, Estonia, Finland, France, Greece, Hungary, Ireland, Italy, Latvia, Lithuania, Luxembourg, Malta, the Netherlands, Poland, Portugal, the United Kingdom, the Czech Republic, Romania, Sweden) from the European Economic Area such as Norway, Liechtenstein and Iceland and from outside the EU, such as the United States, among others.

Approve your truck according to the country of origin so that you can go to ITV with what is necessary to issue Spanish tokens without major complications.

Obtaining the registration number and its corresponding permanent metal plates (in the case of needing temporary green plates, we can also take care of it)

We register trucks in the province of Seville, but we can offer this service in any Spanish province.

Registration service for trucks and other derivatives such as platform trucks, flatbed trucks, box trucks, box trucks, bottle trucks, tank trucks, cage trucks, refrigerated trucks, workshop trucks, quarry trucks, vehicle carrier trucks, mixed trucks, container trucks, garbage trucks, crane trucks, isothermal trucks, silo trucks, as well as articulated trucks with the same characteristics.
NECESSARY DOCUMENTATION AND REQUIREMENTS TO REGISTER A TRUCK
If you're particular

: DNI, NIE or Passport

with the updated address or, failing that, the registration certificate of the place where you are residing to update it with the corresponding agencies.

One intervenes company it will be necessary the

CIF and the DNI or NIE of the representative + Passport

of the representative next to this legal

entity representation document signed and sealed.

document of representation

of transport digitally signed by the interested party

In the event that you want us to take care of the transport card management.

Original Spanish Technical Sheet: which is normally a triptych

with the letter A

, with the copy for the interested party, another for the Ministry of Industry and another for the General Directorate of Traffic that they give you after passing a review on ITV.

Foreign Original Technical Sheet

(of the country that corresponds either

from the most common EU countries such as Germany, Belgium, Norway, France, Italy

, etc... or from outside the United States, etc...) if you want to import a truck.

Invoice

where the seller's VAT number appears.

Proof of payment of the municipal circulation tax.

COC

O

Certificate of conformity

, essential to approve and pass ITV of the truck and thus issue you the Technical Sheet, if you do not have it we can get one reduced

tab

truck or even the individual

approval

.

For VAT purposes,

Vehicles with a mileage of no more than 6,000 km or 6 months after being put into circulation are considered new.

, for which reason it will be necessary to provide proof of VAT payment (model 309 or 300 of the State Tax Agency) or prove that you are included in the census of VAT taxpayers.
REGISTER AN IMPORT TRUCK
If you have decided to buy a new or used foreign truck, we will need, depending on the different cases, in addition to the documentation indicated above, the following documents:
Registration of new foreign trucks from the EU
Original technical sheet from the foreign country of origin.

Payment of VAT or proof or otherwise justify that you are included in the census of VAT taxpayers.
USE:For VAT purposes, a truck is considered to be new when it does not exceed 6,000 km or with a maximum of 6 months from its entry into service.
Registration of Trucks from foreign countries outside the EU
Original foreign data sheet.

Signed sales contract (in the event that you have purchased your private truck)

Sales invoice if you have purchased it from a European merchant, with VAT (check that it is registered as an intra-community operator)

Sales invoice + Supporting document proving truck purchase activity (in the event that it was sold to you by a Spanish purchase, you must provide a copy of the corresponding IAE, Heading 654.1 Retail trade of land vehicles)
Registration of used foreign trucks acquired in the EU
Original foreign data sheet.

DUA (Single Administrative Document) which is a document used to declare international merchandise trade operations, in this case trucks, whether import or export.
HOW MUCH DOES A TRUCK REGISTRATION TAX OR IEDMT PAY?
The IEDMT (Special Tax on Certain Means of Transportation), also known as registration tax, applies to both new and used vehicles equipped with an engine for propulsion.
In the case of trucks, model 06 (exemptions and non-subjections) is liquidated andThey are not subject to the tax since they are vehicles for the transport of goods categories N1, N2 and N3.
HOW MUCH DOES A TRUCK PAY IN MUNICIPAL TAX OR IVTM?
This other tax, the municipal one, is calculated based on the payload of the truck and varies depending on where you have your residence and where you register it.
The registration is made at the time of registration of the truck, it is charged annually and depending on the time of year in which you register it, you will pay more or less (from January to March you would pay the full tax, from April to June you would pay 3/ 4 parts, from July to September 2/4 parts and in the last quarter, the months of October to December 1/4 part)
RATES FOR TRUCKS OF THE TAX ON MECHANICAL TRACTION VEHICLES (IVTM)
From more than 750Kg to less than 1,000Kg of payload: €35.34

From 1,000Kg to 2,999Kg of payload: €55.53

Over 2,999Kg of payload: €166.60
HOW MUCH IS THE TRUCK REGISTRATION FEE WORTH?
The registration fee for a truck costs 99.77€ (data updated 2022)
APPROVAL OF IMPORTED TRUCKS
Before being able to register an imported truck, some documents are necessary to be able to pass ITV and obtain the Spanish file.
Depending on the case, it is enough to obtain a certificate of conformity or COC, a reduced file (issued by an industrial engineer) or individual approval.
The The vast majority of rigid trucks have to do individual homologation, since it is necessary to certify that a particular truck complies with the established administrative provisions and technical requirements (visit this link of RD 866/2010 for more information)
According to this regulation,Reform is considered:
"Any modification, substitution, action, addition or deletion carried out on a vehicle after its registration and on light trailers after being authorized to circulate, which either changes some of its characteristics, or is likely to alter the applicable regulatory requirements. contained in Royal Decree 2028/1986, of June 6. This term includes any action that implies any modification of the data that appears on the ITV card of the vehicle.
DOCUMENTS NECESSARY TO APPROVE A EUROPEAN EXCHANGE (EUROPEAN UNION)
Information of the applicant CIF and DNI

Copy of vehicle documentation

Invoice

Exterior photos of the truck and its box (front, sides and rear)

Interior photos of the truck cabin (seats, dashboard and gear lever)

Photo of the manufacturer's and/or bodybuilder's license plate (usually you can find it on the side of the truck's passenger compartment or under the windshield)

Country of origin

Registration date

Registration type

Fuel type

number of gears

Number of fog lights

trailer tow hitch
NECESSARY DATA TO APPROVE A TRUCK FROM OUTSIDE THE EU OR THE UNITED STATES (USA)
In addition to the above documents, theTWO (the single administrative document) which is a document used in customs formalities in import and export, which must be presented to the customs authorities, where information is provided on what you want to import and serves as the basis for tax declarations.
STEPS TO FOLLOW TO REGISTER A NEW OR USED IMPORT TRUCK
Choose your truck according to your needs and use

Websites for the sale of professional second-hand industrial vehicles

as

truck1.eu

,

extremtrucks.com

,

bastrucks.com

,

trucksnl.com

,

autoline.info

,

trucks4u.com

,

planet-trucks.com

,

truckstore.com

, etc. or send us an email to info@extremtrucks.com and tell us what you need.

Get in touch with the seller and have them solve your doubts about the chosen model.

Choose a date to go see the vehicle,

Test drive the truck and make sure it works properly and is maintained up to date.

Check the documentation of the vehicle and the clauses of the sales contract (or bill of sale).

Transport the truck to Spain with the temporary license plates if they are provided to you (you will need insurance for the days that the transport lasts, you can do it on websites

seguroporsemanas.es

)

Pass ITV and review the truck to obtain the technical sheet to be able to register.

Pay fees and taxes to register the truck in the corresponding traffic delegation and manage the transport authorization.